SHOP & SAVE
Get
$15 Cash Back
on your first purchase with FreeShipping.com
Start Here
UNLOCK MEMBER-ONLY SAVINGS BEYOND TODAY'S OFFER
$15 Cash Back on your next online purchase is just the start!
10% Cash Back
Shop through our site and earn 10% Cash Back at top retailers.
Shipping Rebates
Get your money back when you pay a shipping fee online.
Return Shipping Rebates
Enjoy rebates when you're charged to return an order.
FedEx Returns
Print unlimited free return labels from home.
Price Protection
Get paid the change in price if your purchases go on sale after you buy.
Coupons
Access the latest coupons at your favorite retailers, all in one place.
DISCOVER THESE SAVINGS AT RETAILERS YOU LOVE












and over 1,000 more!
How It Works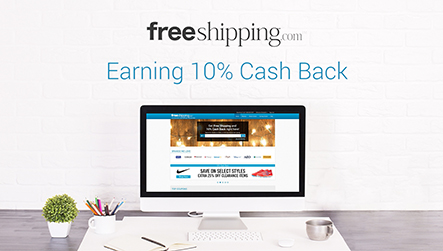 HEAR FROM OUR MEMBERS
I just placed an online order and got a rebate for
the $10 shipping fee through FreeShipping.com!
Cha-Ching!!! Beth P. | Referral Program Share – Facebook
I have been using FreeShipping.com for about 3 years
and have saved over $600. I highly recommend this site.
It works for me and it will work for you. Sandy M. | Facebook

Feel at-ease with our Satisfaction Guarantee
Find out how much money you can save with FreeShipping.com by starting your 7 day trial. If you don't love it, our award-winning Customer Service team will refund your first 30 days. Even if you cancel, today's offer and any other savings you earn are yours to keep.
Start Here